Philippines and Niue Establish Diplomatic Relations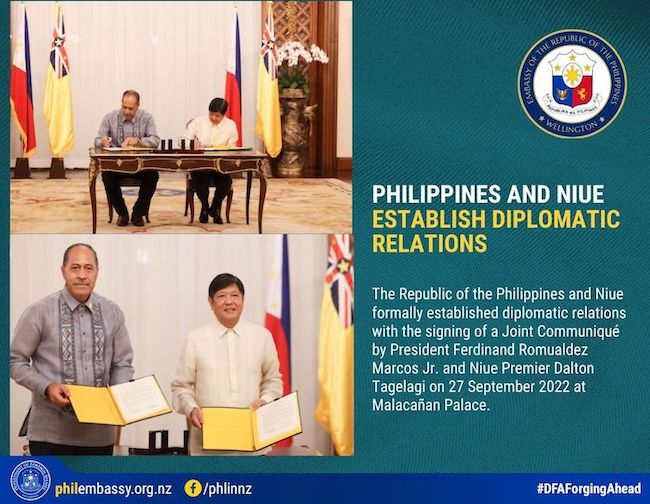 The Republic of the Philippines and Niue formally established diplomatic relations with the signing of a Joint Communiqué by President Ferdinand Romualdez Marcos Jr. and Niue Premier Dalton Tagelagi on 27 September 2022 at Malacañan Palace.
"The Joint Communiqué represents the agreement between the Government of the Republic of the Philippines and the Government of Niue to develop friendly relations and promote cooperation," announced by Office of the Press Secretary (OPS) Secretary Trixie Cruz-Angeles during the signing ceremony.
It is the first meeting between the two Heads of Government and the first visit of Premier Tagelagi to the Philippines.
Following the signing, the two leaders engaged in a warm and friendly exchange. President Marcos Jr. looked forward to more active engagements between the two countries after formal diplomatic ties had been established. Premier Tagelagi echoed the sentiments of the President and thanked the latter for the warm hospitality extended by the Philippine Government to his delegation.
Niue is an island country located in the South Pacific Ocean. It is a self-governing state in free association with New Zealand, an arrangement dating from 19 October 1974. The country has a population of approximately 2,000, with over 31 Filipinos residing in Niue as of December 2021. The Philippine Embassy in Wellington, New Zealand has oversight jurisdiction over Niue.
The intent to establish diplomatic relations with Niue is part of the wider thrust of the Philippine Government to broaden its engagement with Pacific island states, guided by a forward-looking policy and the principle of friendship towards all countries.
Prior to the establishment of diplomatic relations, the Philippines has been engaging with Niue mainly as a dialogue partner of the Pacific Islands Forum, an intergovernmental organization that aims to enhance cooperation among countries and territories in the South Pacific.