Philippine Ambassador meets with Queenstown Lakes District Council Culture, Arts and Events Facilitator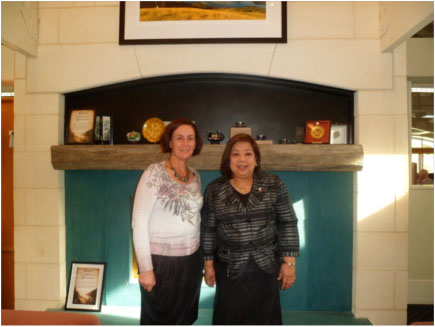 Ambassador Virginia H. Benavidez accompanied by Consul Arlene Gonzales- Macaisa was warmly welcomed by Ms. Jan Maxwell, Queenstown Lakes District Council (QLDC) Cultural, Arts and Events Facilitator when they visited on 12 April 2013. The meeting was made during the simultaneous delivery of the Embassy's mobile consular services for the benefit of Filipinos in Queenstown and the surrounding cities of the South Island on 12-15 April 2013
Discussions focused on the role that the QLDC plays in facilitating cultural, arts and events programs in Queenstown. The QLDC is an event friendly Council that constantly strives to contribute to the economic, social and cultural wellbeing of the community through having a role in events. According to Ms. Maxwell, Queenstown has a permanent population of 20,000 but during the holiday seasons the number of people in the town could go as high as 30,000 to 60,000. Due to the influx of visitors per year, Queenstown is a "melting pot" and is very receptive of multi-cultural diversity.
Ambassador Benavidez observed that Queenstown is a multi-cultural town that welcomes and thrives on events with diverse ethnic origins and mounted by local communities. She shared with Ms. Maxwell the plan of the ASEAN Heads of Missions to host an ASEAN Film Festival in Wellington and Queenstown. The film festival would be a way to generate greater awareness on ASEAN nations into mainstream consciousness of Queenstown. This would contribute to the multi-cultural focus of New Zealand, foster people-to-people contacts and promote ASEAN culture among New Zealanders and other communities.
Ms. Maxwell stated that Queenstown welcomes multi-cultural events and that the QLDC would be happy to facilitate an ASEAN Film Festival in Queenstown just as it had assisted the Filipino communities of the Southland during its successful basketball league event held in 2012.
Ambassador Benavidez thanked Ms. Maxwell for a productive meeting, and stated that she is looking forward to collaborating with Ms. Maxwell to further future exchanges regarding the Embassy's Filipino community activities as well as ASEAN events.