Online Forum: Status of the Peace Process in the Philippines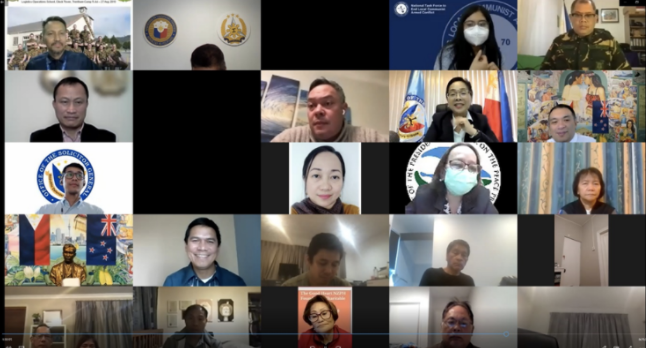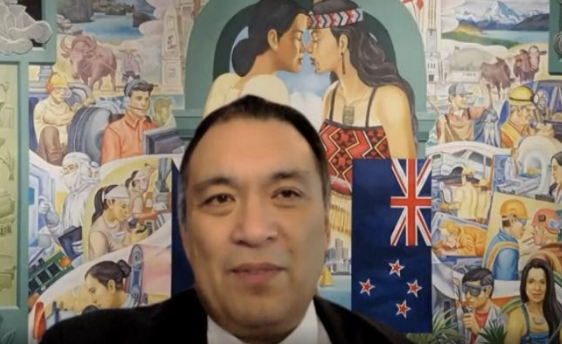 Left photo: New Zealand participants of the Online Forum on the Status of the Peace Process.
Right photo: Ambassador Domingo delivering an address to welcome the participants of the forum.
The Philippine Embassy in Wellington hosted an online forum on Status of Peace Process in the Philippines on 01 September 2021. The online forum was facilitated by the Office of the Philippines Defense and Armed Forces Attaché.
The forum aims to apprise the Filipino Community in New Zealand and the Pacific of the current efforts of the Philippine Government to end the insurgency problem in the Philippines and attain long lasting peace. Specifically, it aims to provide the participants an understanding of the Peace Process with the CPP-NPA-NDF (CNN), the resolute stand of the government to uphold Human Rights (HR) in the country, the status of implementation of the Anti-Terrorism Act of 2020 (Republic Act No. 11479) and status of cases in relation thereto, and the status of the counter-insurgency campaign implemented by the National Task Force to End Local Communist Armed Conflict (NTF-ELCAC) and its impact to national development.
The subject matter experts spoke on selected topics relevant to the government's approach in ending the insurgency problem and upholding the peace relative to the CNN. At the end of the presentation, the participants engaged the speakers – Dir. Ma. Clara Munsayac-Villarta of the Office of the Presidential Adviser for the Peace Process, Dir. Tito Fajardo of the Presidential Human Rights Committee, Justice Angelita Villanueva Miranda and Atty. Jonathan Pabllore both of the Office of the Solicitor General, and LtCol Mario Jose Chico (Ret) of the NTF- ELCAC Secretariat.
The Peace Process track dates back from even the administration of President Corazon Aquino back in the 1980s. Other tracks have already been successfully concluded, namely with the Moro National and Islamic Liberation Fronts, the Cordillera Peoples Liberation Army, other Communist Groups. Only the peace process with CNN remains.
In his remarks, His Excellency Jesus "Gary" Domingo, Philippine Ambassador to New Zealand, said, "I cannot emphasize enough that the attainment of Peace and Development for our beloved Republic and People is the fondest wish of President Rodrigo Duterte and the overall Philippine Government." At the end of the forum Col Romeo N Bautista III PA (GSC), the Non-Resident Philippine Defense and Armed Forces Attaché to New Zealand, remarked that "We need to end this insurgency at the soonest possible time. For the government to do that, it needs all the help it can get, which is why we are reaching out to you, our kababayans living abroad."
Over seventy (70) members of Filipino Community in New Zealand and Australia attended the forum.