Diplomatic League: Engaging the Youth for Strategic Communication

The Diplomatic League (DL), the youth engagement platform of the Department of Foreign Affairs (DFA), recently held its fifth annual Diplomatic League Global Summit (DLGS). The DFA's Bulwagang Apolinario Mabini and Philippine Women's University (PWU) served as venues for the Summit, which was attended by over 200 delegates from 120 schools and institutions from all over the Philippines. The event is the Philippines' largest regular gathering of youth and young professionals who are studying diplomacy and are considering diplomatic careers. DL is guided and advised by the Philippine Embassy in New Zealand and the DFA Office of Strategic Communication and Research (OSCR).
The theme for this year's DLGS is "Youth Engagement for Strategic Communication" and was highlighted by a workshop on Nation-building lead by Hon. Ernesto A. Abella, Undersecretary for Strategic Communication and Research. Undersecretary Abella presented a dynamic panoramic perspective on the heritage and potential of the Philippines and the Filipino people. Delegates working in teams then made presentations on their vision and priorities for the Philippines in the year 2040.
DLGS 2019 also featured talks by distinguished senior diplomats and junior colleagues. Ambassador Rosario G. Manalo inspired delegates with her pioneering achievements in diplomacy, including discussions of her present work as Chairperson of the Independent Commission of Enquiry in Myanmar (ICOE) and UN Committee for the Eradication of Discrimination Against Women (CEDAW). Ambassador Melita Sta. Maria-Thomezeck drew on her long and exemplary career to illustrate the rewards and challenges of diplomatic service.
Ms. Lila Ramos Shahani, Secretary-General of the UNESCO National Commission (UNACOM) and Mr. Aian Caringal of the Office of ASEAN Affairs shared UNESCO's and ASEAN youth engagement initiatives. Mr. Adrian Baccay of OSCR spoke on the Foreign Service Officer Exam (FSOE) and his own experiences in preparing for and taking it. Ms. Dulce Amor Fortunato of the Foreign Service Institute (FSI) and Mr. John Paul Mondejar of the Office of UN & International Organizations (UNIO) discussed FSI and alternate DFA career pathways, respectively. Mr. Ralph Torralba shared his experiences as a Persons With Disabilities (PWD) advocate in DFA.
Ms. Lui Jolongbayan of the UN Development Programme (UNDP) discussed the UN Sustainable Development Goals. Ms. Angelita Bonsilao of the Philippine Red Cross (PRC) spoke on the PRC's youth-oriented activities. DL Adviser and founder Ambassador Jesus Domingo outlined the Universal Diplomacy, Diplomatic League and Youth Ambassador (#YAMBA) projects and invited participating schools and students to join. Domingo also coordinated the Model Embassy simulations, based on the year 2040 visions of the participants. DL Secretary-General Mr. Christian Cardenas led the sessions of the Diplomatic League Model UN Academy (DLUNA), which provide training on actual UN conference procedures for Model UN participants. The DLUNA was held at the Philippine Womens' University. DLGS 2019 also featured the traditional Diplomatic Ball and Fair. The Embassies of Australia, Austria, France, Indonesia, Lao PDR, Nigeria, Norway, Palau, Russian Federation, United States and Venezuela graciously provided information and cultural booths to enliven the event.
After DLGS 2019, held from 29 March to 1 June 2019, the DL continued to forge new partnerships with schools and organizations all over the Philippines and New Zealand. New DL chapters and clubs are being formed in Metro Manila (University of the East and University of Sto. Tomas), Baguio, Bulacan, Iloilo and other provinces, as well as in Ashburton, Auckland, Christchurch and Wellington in New Zealand. Several Rotaract Clubs around the country and the Sangguniang Kabataan of Malabon are other new DL partners. A DL Conference in Baguio is being planned for October. DL will also enhance its online presence with web-based conferences and training.
While the DL is a project of the Philippine Embassy in New Zealand, its partnership with OSCR and schools in the Philippines –and enabled by Social Media - allows it to be a national and global Youth and Public Diplomacy platform far beyond Wellington. The DL is also supported by an active student secretariat, with the core of its members drawn from New Era University's Foreign Service Programme.
The DL will continue to work closely with the DFA, diplomatic stakeholders and its partner schools, to further engage Filipino youth in advancing the pillars of Philippine Foreign Policy and encouraging them to pursue careers in diplomacy.
Foreign Service Posts are cordially invited to join the DL, kindly email Ambassador Domingo at jesus.domingo@dfa.gov.ph for further information. DL's Facebook Page is DiplomaticLeague.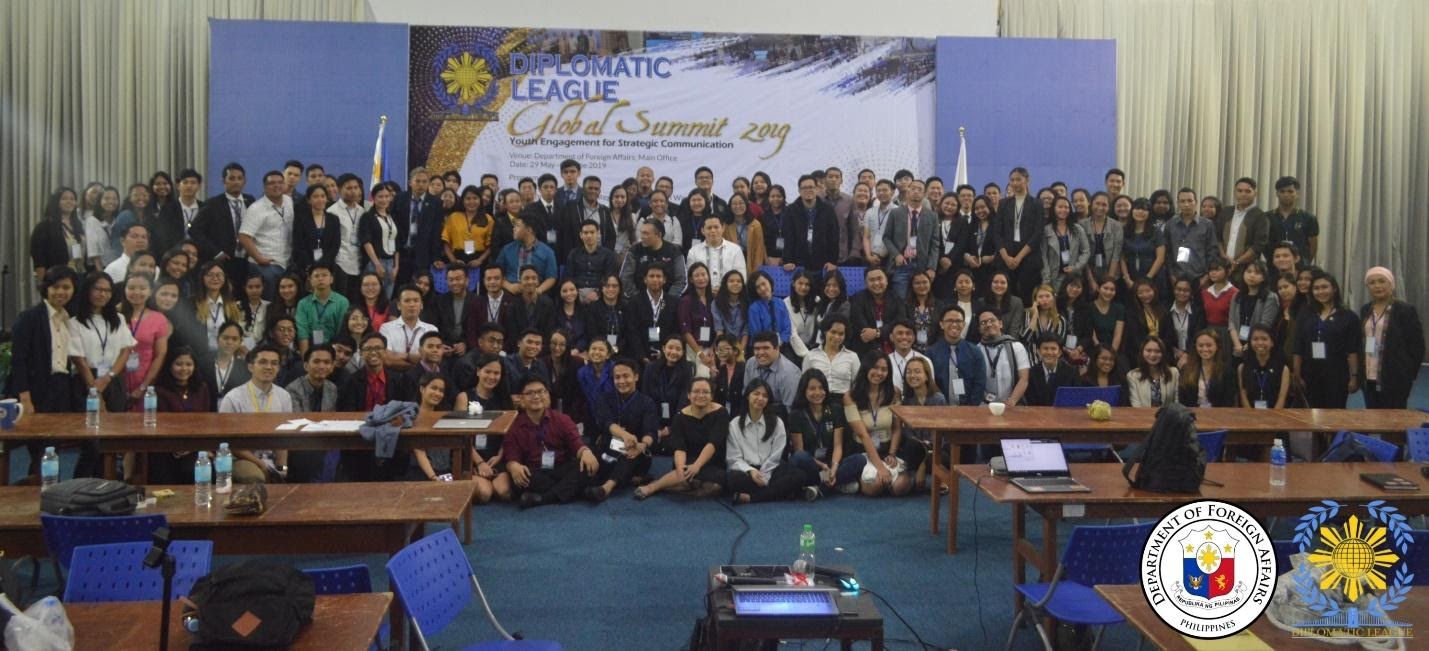 Group picture of DLGS 2019 Delegates at the DFA Bulawagang Mabini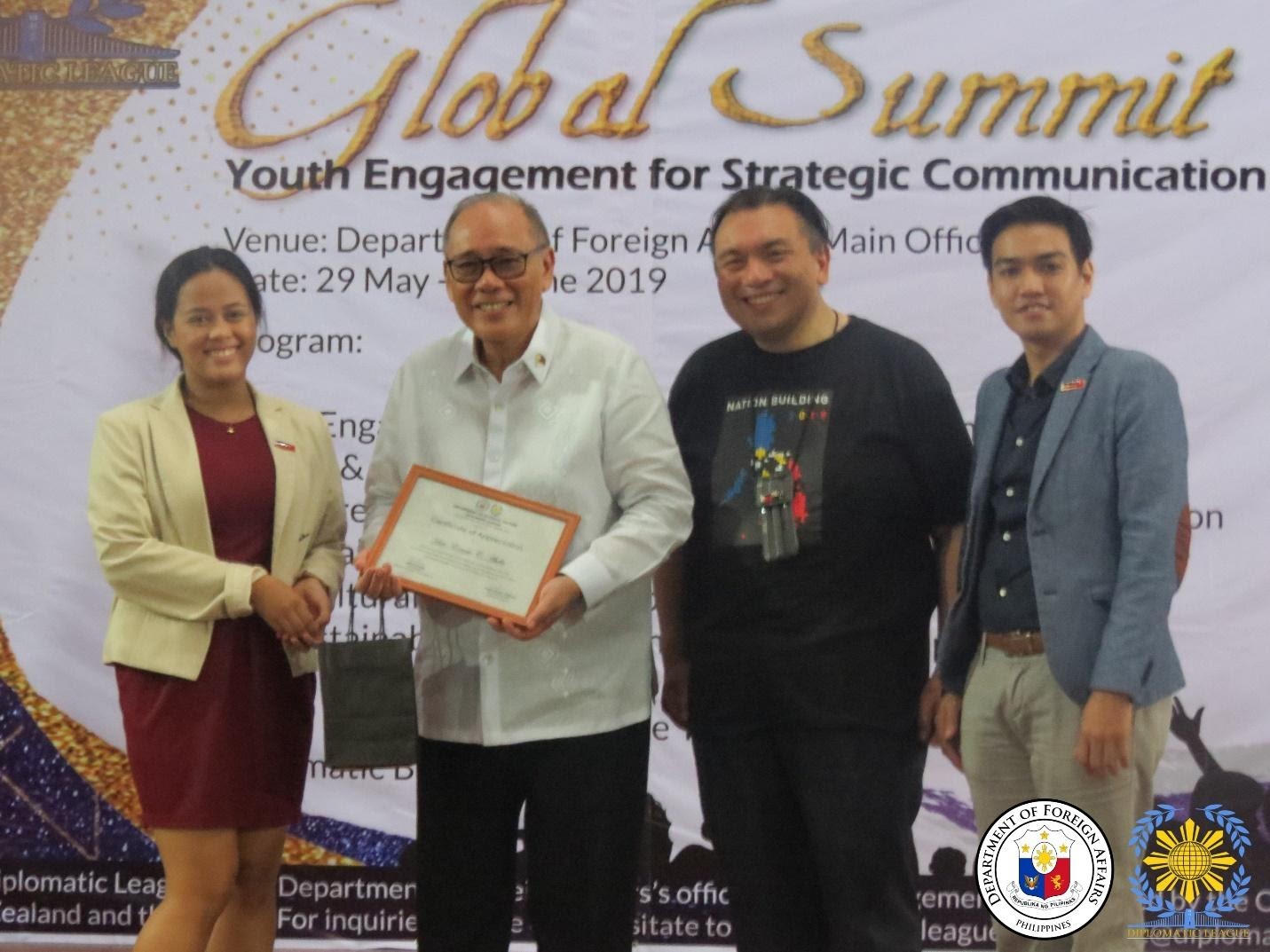 DL Deputy Secretary-General Angelita Bonsilao, DFA OSCR Undersecretary Ernesto Abella, DL Adviser & Founder Jesus Domingo & DL Secretary-General Christian Cardenas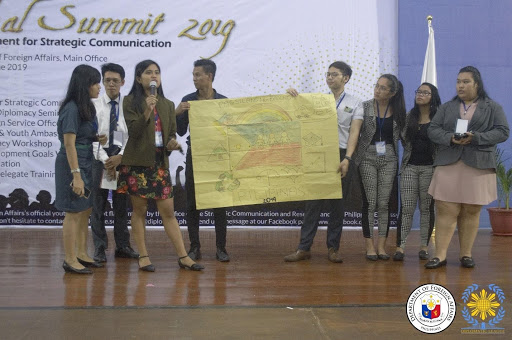 DLGS 2019 Participants discussing their Year 2049 Nation-building Vision for the Philippines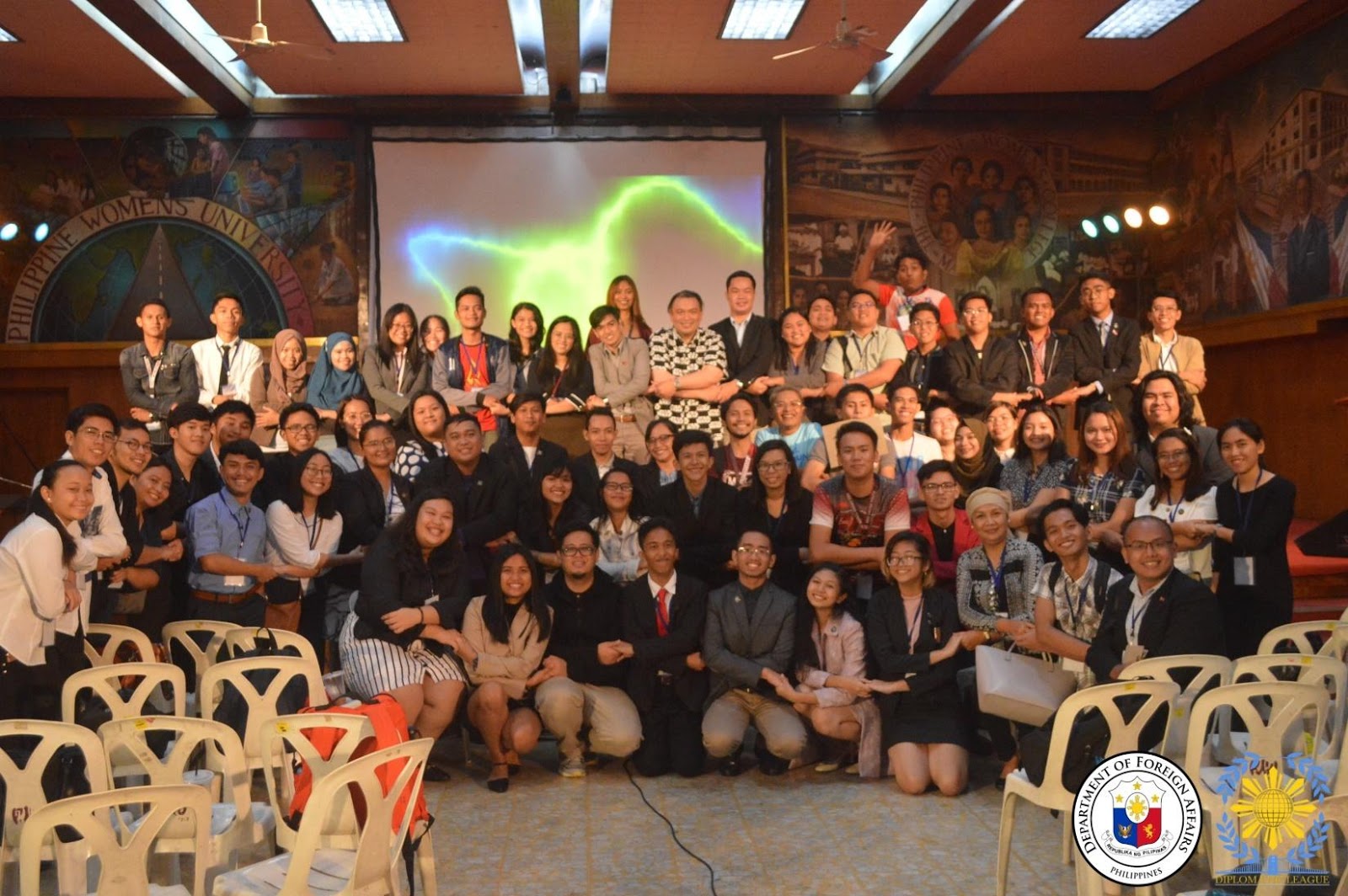 DLGS 2019 Delegates at the DL Model UN Academy held at Philippine Women's University